Meet Donors
Dan and Nancy Robbins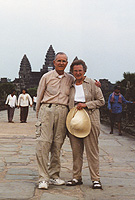 Several years ago Dan and Nancy Robbins made a significant commitment to the Golisano Children's Hospital at Strong. The gift was an acknowledgement of the life-saving care their daughter Nancy received in 1970 as a three-year-old cancer patient. The Robbinses' inspired generosity helped fund a 22-bed pediatric intensive care unit.
This past spring Dan and Nancy established a charitable gift annuity (CGA) funded with cash as part of their commitment. Their motivations were numerous.
At this point in their lives, Dan and Nancy aspire to a moderately conservative management of their finances. A cash-funded CGA allowed them to secure a guaranteed stream of income for the duration of their lives, a significant portion of which will be tax-free for a period of years. The annuity rate they received was appealing, and they enjoyed the benefit of a charitable tax deduction.
"When we considered the options available in the current economic times, it was clear cash was the way to go. As we learned about the prevailing charitable annuity rates and the resulting stream of income, we saw that a cash-funded CGA best met our financial and philanthropic goals," says Nancy. "It's definitely an opportunity we encourage others to explore."
Back
© Pentera, Inc. Planned giving content. All rights reserved.
River Campus
MAIL: 500 Joseph C. Wilson Blvd.
Rochester, NY 14627
GPS/MAPS: 252 Elmwood Ave.
Rochester, NY
Medical Center
601 Elmwood Ave.
Rochester, NY 14642
Eastman School
26 Gibbs St.
Rochester, NY 14604