Meet Donors
Leon Winans '30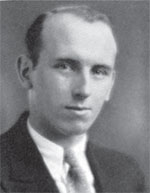 Leon Winans would be described by many as a man of modest means. Through hard work he paid for his home in Clarence, New York, and by age 80 built an investment portfolio, bringing the total value of his estate to about $180,000. Little did he know his generosity would be noted more than a decade after his passing.
Leon cherished his experience at the University. He never missed a class reunion, was an enthusiastic volunteer, and made annual gifts like clockwork.
Leon aspired to do more. In his later years, he stayed awake at night mulling over various strategies that would enable him to fulfill his obligations to his family and his desire to pass on a meaningful legacy to the University.
In 1985, he and his wife Eva made an agreement with the University by which they would make a gift of their home but retain the right to live in it until the passing of the survivor. This gift represented one-third of Leon's estate.
Although it would have brought him extraordinary satisfaction, Leon did not live to witness the tremendous impact of his generosity. At his direction, the proceeds from the sale of his home in 1993 became part of the Harmon S. Potter Scholarship Endowment, which is invested in the University's diversified endowment. By 2008, the initial sum of $60,000 produced by the house sale had grown to $274,000. In addition, $115,000 has been drawn from the fund's earnings to provide scholarships for deserving Rochester students.
And this is only the beginning. By dreaming beyond the seeming limitations of his circumstances, Leon left a legacy benefiting undergraduates for countless generations to come.
Back
© Pentera, Inc. Planned giving content. All rights reserved.
River Campus
MAIL: 500 Joseph C. Wilson Blvd.
Rochester, NY 14627
GPS/MAPS: 252 Elmwood Ave.
Rochester, NY
Medical Center
601 Elmwood Ave.
Rochester, NY 14642
Eastman School
26 Gibbs St.
Rochester, NY 14604