Meet Donors
Andrew Scala '11, John Scala '80, Bob Scala '56M (MS), '58M (PhD), and Janet Scala '55N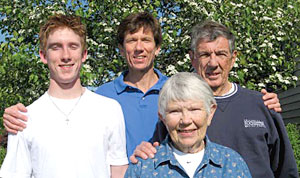 We feel very strongly that we want to give others the opportunities we enjoyed at Rochester. When we were first starting out, we soon realized in our careers that we were very well prepared and that our education at Rochester was of a very high quality. Our son John '80 also found this to be true some years later, and his son, our grandson, Andrew '11, is currently exploring his own University of Rochester experience."
Bob and Jan Scala have expressed their appreciation for their Rochester educations in a number of important ways. Through a combination of annual, major, and planned gifts, they have crafted their own personal legacy for the benefit of future generations of Rochester students:
Charter Membership in the George Eastman Circle, following many years of loyal and generous annual fund support.
A School of Nursing scholarship through a major gift at the time of Jan's 45th Reunion.
A School of Medicine and Dentistry merit scholarship and a School of Medicine and Dentistry graduate study scholarship funded by two separate charitable gift annuities, and estate-plan provisions to benefit Rochester and other favored charities, in addition to family members.
Back
© Pentera, Inc. Planned giving content. All rights reserved.
River Campus
MAIL: 500 Joseph C. Wilson Blvd.
Rochester, NY 14627
GPS/MAPS: 252 Elmwood Ave.
Rochester, NY
Medical Center
601 Elmwood Ave.
Rochester, NY 14642
Eastman School
26 Gibbs St.
Rochester, NY 14604