Meet Donors
Andy Stalder '48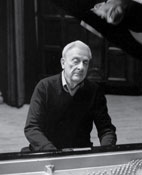 Andy Stalder's involvement with the University's Eastman School of Music has been lifelong, starting with violin lessons in 1933 through Eastman's Preparatory Department. As an Eastman scholarship recipient, he continued violin lessons at the collegiate level, though he ultimately earned a degree in history at the University's College of Arts, Sciences, and Engineering. Upon his retirement from a distinguished career in the U.S. Foreign Service, Andy returned to Eastman's Community Music School in 1976. For the past three decades he has pursued study of his favorite instrument, the piano.
Sharing the riches of his musical life and helping others to enjoy similar opportunities are the reasons Andy created two named scholarship endowments at the Eastman School, one in support of collegiate scholarships and the other in support of students enrolled at the Community Music School. One of the endowments will be established from the proceeds of a charitable gift annuity Andy funded with appreciated securities. While motivated by a desire to give back, the benefits of receiving a guaranteed fixed income and a significant charitable deduction were meaningful considerations.
Back
© Pentera, Inc. Planned giving content. All rights reserved.
River Campus
MAIL: 500 Joseph C. Wilson Blvd.
Rochester, NY 14627
GPS/MAPS: 252 Elmwood Ave.
Rochester, NY
Medical Center
601 Elmwood Ave.
Rochester, NY 14642
Eastman School
26 Gibbs St.
Rochester, NY 14604