Meet Donors
Dr. Eric M. Dreyfuss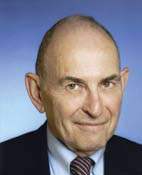 "Allergists in Rochester, N.Y., have had a great influence on the development of the fields of allergy and pediatric allergy in the United States," writes Dr. Eric M. Dreyfuss. That influence is what brought Dr. Dreyfuss to Rochester more than 45 years ago to study with his mentor Dr. Jerome Glaser, a pioneer in the field of pediatric allergy. Maintaining the tradition of growth and development of the field is what recently moved Dr. Dreyfuss to make two important gifts.
Earlier this year Dreyfuss funded a charitable remainder unitrust (CRUT) that will ultimately establish The Founders Professorship of Pediatric Allergy, an endowed professorship that will honor the illustrious founders of the pediatric allergy section of the Department of Pediatrics at the University of Rochester Medical Center. To complement the CRUT, he recently funded a donor-advised fund with appreciated securities. By using appreciated stock, Dr. Dreyfuss made his gift in the most tax-effective manner. He avoided capital-gain tax and secured an income-tax deduction.
Back
© Pentera, Inc. Planned giving content. All rights reserved.
River Campus
MAIL: 500 Joseph C. Wilson Blvd.
Rochester, NY 14627
GPS/MAPS: 252 Elmwood Ave.
Rochester, NY
Medical Center
601 Elmwood Ave.
Rochester, NY 14642
Eastman School
26 Gibbs St.
Rochester, NY 14604