Meet Donors
Donna Matheson '78, '79S (MBA)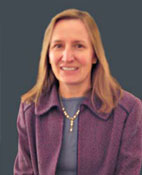 Donna Matheson acknowledges how important her Simon School education has been to her Wall Street career, where she is currently the chief financial officer for investment banking technology at Citi. Since earning her Simon degree, she has regularly returned to the School to participate on panels, to work with and advise students, and to serve on the School's Executive Advisory Committee.
Donna's financial support has grown commensurate with her involvement. "It's helpful to have an understanding of the School's operating environment. I understand where my dollars are going and the impact they will have." Her most recent gift, a five-year commitment to become a charter member of the University's George Eastman Circle, will provide unrestricted annual support to the Simon School. Donna appreciates the value of the tax deduction as it allows her philanthropic dollars to go even further in her efforts to support the Simon School.
Back
© Pentera, Inc. Planned giving content. All rights reserved.
River Campus
MAIL: 500 Joseph C. Wilson Blvd.
Rochester, NY 14627
GPS/MAPS: 252 Elmwood Ave.
Rochester, NY
Medical Center
601 Elmwood Ave.
Rochester, NY 14642
Eastman School
26 Gibbs St.
Rochester, NY 14604