Meet Donors
Dr. Brewster C. Doust '50, '52M (MD)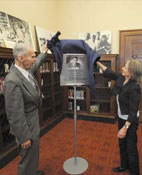 Dr. Brewster C. Doust graduated from the University of Rochester School of Medicine and Dentistry in the same year his late brother Dudley A. Doust '52 received his degree in English. Dudley went on to study at Stanford under Wallace Stegner and then embarked on a distinguished career as a journalist and writer.
To honor his brother's career and memory, Brewster gifted a property in Skaneateles, N.Y., with a retained life estate. He enjoys both the right to live in the house for the balance of his life and an immediate charitable deduction for the value of the remainder interest in the property.
The eventual sale of the property will be used to support The Dudley A. Doust '52 College Writing Tutors Fund, an endowment that will permanently support the nearly 50 graduate and undergraduate students who serve as tutors for the College's Writing Program. "The Doust College Writing Tutors Fund is something Dudley would believe in and support. I feel very good about this gift and how it honors my brother."
Back
© Pentera, Inc. Planned giving content. All rights reserved.
River Campus
MAIL: 500 Joseph C. Wilson Blvd.
Rochester, NY 14627
GPS/MAPS: 252 Elmwood Ave.
Rochester, NY
Medical Center
601 Elmwood Ave.
Rochester, NY 14642
Eastman School
26 Gibbs St.
Rochester, NY 14604