Meet Donors
Merle and Hans Schiff '43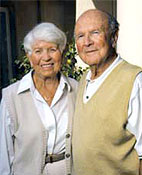 Hans Schiff '43 and his wife Merle wanted to make a meaningful gift to the University of Rochester. They began on a path of giving that would ultimately build a significant philanthropic legacy at Rochester.
Over the years, Hans and Merle made numerous gifts to the University. They were faithful annual-fund supporters and established an endowed scholarship fund in memory of Hans' first wife, Barbara '44. In 1998, Hans and Merle decided to make an even more substantial philanthropic investment in the University with a gift of real estate within a charitable trust. The Schiffs benefited from an income-tax deduction and established a charitable remainder trust, which provided them with a sizeable annual income stream. Several years later, the Schiffs also funded a charitable gift annuity.
Now, in 2008, after discovering the advantages of these financial vehicles and the vast possibilities for giving they provide, the Schiffs have made provision for the University through a most generous bequest intention. They have left a significant, lasting legacy for future generations and helped to ensure the University's tradition of excellence.
Back
© Pentera, Inc. Planned giving content. All rights reserved.
River Campus
MAIL: 500 Joseph C. Wilson Blvd.
Rochester, NY 14627
GPS/MAPS: 252 Elmwood Ave.
Rochester, NY
Medical Center
601 Elmwood Ave.
Rochester, NY 14642
Eastman School
26 Gibbs St.
Rochester, NY 14604