Meet Donors
Bob '50 (MA), '56 (PhD) and Corky Kirkwood '48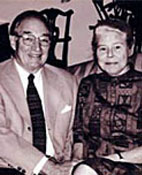 Bob Kirkwood and his late wife Corky met in a class taught by legendary history professor Dexter Perkins, whose tenure at Rochester spanned almost forty years. Bob received his master's degree in 1950 and his doctoral degree in 1956. Corky received her bachelor's degree in history in 1948.
Following successful careers in higher education, Bob and Corky decided to honor Perkins by contributing to the establishment of an endowed fund in Perkins' name in the Department of History in the College of Arts, Sciences, and Engineering. Through a combination of charitable gift annuities and generous outright gifts, they have made a substantial commitment to this effort during their lifetimes, and Bob has made further provision for it in his estate plan.
"Dexter Perkins contributed greatly to the University of Rochester and to the historical profession through his inspired teaching and scholarly distinction," said Bob. "His brilliance was matched by his generosity, sensitivity, and keen sense of humor. Corky and I were profoundly grateful for the experience we had as his students and friends. An endowment in his name will celebrate his achievements and continue his commitment to the study and teaching of history at Rochester."
Back
© Pentera, Inc. Planned giving content. All rights reserved.
River Campus
MAIL: 500 Joseph C. Wilson Blvd.
Rochester, NY 14627
GPS/MAPS: 252 Elmwood Ave.
Rochester, NY
Medical Center
601 Elmwood Ave.
Rochester, NY 14642
Eastman School
26 Gibbs St.
Rochester, NY 14604