Meet Donors
Elizabeth Wells '96E (MA), '04E (PhD)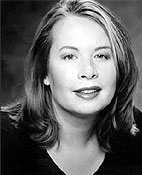 "I was thinking about a personal mission statement for my life and wanted to know that I was leaving a legacy, a mark on the world that would last far beyond my years. I didn't want to leave it to chance," comments Elizabeth Wells in describing what motivated her to develop an estate plan at a fairly young age.
Elizabeth serves as assistant professor of music at Mount Allison University and earned both master's and doctoral degrees from the Eastman School of Music in 1996 and 2004. She has included the Eastman School of Music and two other institutions of higher education in her will. Each will receive a percentage of her estate, with the gift to Eastman designated for support of the Sibley Music Library.
"I am not married and don't have children, and it seemed appropriate to provide support for the three educational institutions with which I have been involved. Even if I did get married and have children, I think I would still have this portion of my estate designated for the educational organizations.
"Why? I have gotten to where I am in life, doing something that I very much enjoy doing, as a direct result of higher education. It is important to me that other people have the same opportunity.
"It is always important to imagine what is going to happen to your estate. The thing is, you don't know how long you will live; and it is best to be prepared," Elizabeth observes.
Back
© Pentera, Inc. Planned giving content. All rights reserved.
River Campus
MAIL: 500 Joseph C. Wilson Blvd.
Rochester, NY 14627
GPS/MAPS: 252 Elmwood Ave.
Rochester, NY
Medical Center
601 Elmwood Ave.
Rochester, NY 14642
Eastman School
26 Gibbs St.
Rochester, NY 14604