Meet Donors
Judy Wilmot Linehan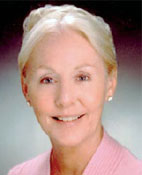 "Cancer is often devastating and takes away so many of our loved ones. My family has been deeply affected by cancer. I lost my mother, father, and one of my brothers to this horrible disease. Once you hear that a loved one has cancer, your life is never the same," reflects Judy Wilmot Linehan.
"For all these reasons, I really appreciate that there's some way that I can make a difference. After all the frustration and pain that comes from experiencing so much loss from cancer, it feels good to be able to take definitive steps against the disease. For me, it's very important to do something positive; and I am truly excited and honored to serve as the co-chair for the James P. Wilmot Cancer Center Comprehensive Campaign. To continue the legacy of giving started by my father, my husband Paul and I made a leadership gift early in the campaign that we are giving over five years. Many other members of the Wilmot family have joined me in making gifts to this very important effort."
Back
© Pentera, Inc. Planned giving content. All rights reserved.
River Campus
MAIL: 500 Joseph C. Wilson Blvd.
Rochester, NY 14627
GPS/MAPS: 252 Elmwood Ave.
Rochester, NY
Medical Center
601 Elmwood Ave.
Rochester, NY 14642
Eastman School
26 Gibbs St.
Rochester, NY 14604