Meet Donors
Carol Brink '56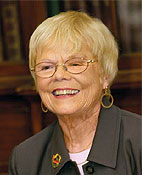 "I really believe in the mission of the School of Nursing and have since I started here as a nursing student. I have seen the school attract and keep solid nursing leaders such as Eleanor Hall, Lee Ford, and Pat Chiverton. They are outstanding women with real vision.
"I established a bequest in my will to ensure that the dollars I want to go to the School of Nursing will go to the school. By making a bequest, I will not be giving up assets I may need to live on.
"And, in making my plans known now, the school's leadership is aware of my commitment and I enjoy the satisfaction of helping to build the future."
Back
© Pentera, Inc. Planned giving content. All rights reserved.
River Campus
MAIL: 500 Joseph C. Wilson Blvd.
Rochester, NY 14627
GPS/MAPS: 252 Elmwood Ave.
Rochester, NY
Medical Center
601 Elmwood Ave.
Rochester, NY 14642
Eastman School
26 Gibbs St.
Rochester, NY 14604