Meet Donors
Robert C. Manchester '32M (MD)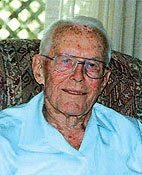 Robert C. Manchester '32M (MD), who believed in securing education for future generations of physicians, died early this year at his home in Cupertino, California, at the age of 100.
More than 20 years ago, Dr. Manchester, along with his sister Winifred, established a scholarship fund to assist students in financial need as a tribute to their father. To date, the Dr. William C. Manchester Scholarship Fund has helped more than 26 School of Medicine and Dentistry students.
Over his lifetime, Dr. Manchester also established two charitable remainder annuity trusts with the University and purchased a number of charitable gift annuities to provide income for himself and his wife, Dorothy. Now that he has passed away, the remainder values from certain of these deferred life-income gifts, coupled with a will provision, will produce at least another $4 million to be added to the Manchester Scholarship. It will become the largest School of Medicine scholarship fund.
"Robert Manchester's vision and gifts will allow us to help many medical students for years to come," said David S. Guzick, MD, PhD, dean of the School of Medicine and Dentistry. "He did not seek to have his own name remembered, but we will remember him for his generosity and for his dedication to his medical school."
Back
© Pentera, Inc. Planned giving content. All rights reserved.
River Campus
MAIL: 500 Joseph C. Wilson Blvd.
Rochester, NY 14627
GPS/MAPS: 252 Elmwood Ave.
Rochester, NY
Medical Center
601 Elmwood Ave.
Rochester, NY 14642
Eastman School
26 Gibbs St.
Rochester, NY 14604