Meet Donors
Linda Howell, R.N.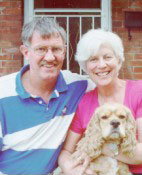 When my husband and I were preparing our wills, our attorney asked us about donations to charity. Since I work in the Outpatient Department at the Golisano Children's Hospital at Strong, I decided to provide a bequest to support the children and families served by our department, especially those who are disadvantaged.
While it is sometimes overlooked by donors, the Pediatric Outpatient Department provides the preventative and primary care, immunizations, and patient education that keep children and families in our community healthy. I know that there is a great need for funding in this area, so I decided to direct my bequest to make sure that we continue to provide the finest health care available to our community's youngest and neediest citizens.
Back
© Pentera, Inc. Planned giving content. All rights reserved.
River Campus
MAIL: 500 Joseph C. Wilson Blvd.
Rochester, NY 14627
GPS/MAPS: 252 Elmwood Ave.
Rochester, NY
Medical Center
601 Elmwood Ave.
Rochester, NY 14642
Eastman School
26 Gibbs St.
Rochester, NY 14604