Meet Donors
Mary Ann Singer '57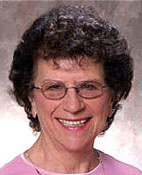 "My years at the University of Rochester were important ones and helped prepare me well for my future life and a successful business career. Helping other deserving students also achieve a Rochester education has always been a cause dear to my heart.
"Charitable gift annuities have been a convenient and mutually beneficial method of giving. I receive guaranteed lifetime income and a charitable tax deduction, and the University will receive the remaining funds for scholarship aid when I die. I've made a series of these annuity gifts over time. The 'laddering' effect of the income stream helps guard against the eroding effect of inflation, and I am able to also gradually increase the amount of my gifted assets that will be used for scholarships. If possible, it is wise to use appreciated securities for a charitable gift annuity purchase, since one escapes capital-gain tax at the time one makes that purchase.
"I have been told that charitable gift annuities are among the most popular of planned giving methods. Based on my experience, I can certainly understand why."
Back
© Pentera, Inc. Planned giving content. All rights reserved.
River Campus
MAIL: 500 Joseph C. Wilson Blvd.
Rochester, NY 14627
GPS/MAPS: 252 Elmwood Ave.
Rochester, NY
Medical Center
601 Elmwood Ave.
Rochester, NY 14642
Eastman School
26 Gibbs St.
Rochester, NY 14604