Meet Donors
Barbara Hall Sheppard '59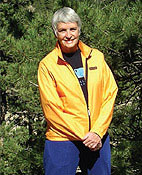 Instead of selling her condominium in Colorado, Barbara (Bonnie) Hall Sheppard '59 used the fully depreciated property to fund a charitable remainder trust at Rochester.
The generous gift benefited Bonnie in multiple ways. She avoided substantial capital-gain tax, realized an income-tax deduction, and assured herself of an income for life.
But the true beneficiaries are future generations of Rochester students. Bonnie's gift will ultimately create an undergraduate scholarship in her name.
And just in time to celebrate one of life's benchmarks, Bonnie's gift counted toward her 45th Reunion Class Gift Campaign.
Back
© Pentera, Inc. Planned giving content. All rights reserved.
River Campus
MAIL: 500 Joseph C. Wilson Blvd.
Rochester, NY 14627
GPS/MAPS: 252 Elmwood Ave.
Rochester, NY
Medical Center
601 Elmwood Ave.
Rochester, NY 14642
Eastman School
26 Gibbs St.
Rochester, NY 14604