Meet Donors
Louise Milstein Spivack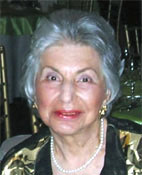 "Living with cancer, I know firsthand how truly important are the care, the staff, and all that goes into making the James P. Wilmot Cancer Center an excellent resource. I am proud to be a volunteer there.
When the Center's $42.5 million expansion campaign was announced, I knew that I wanted to help, but I wasn't quite sure how my desire could be translated to reality. Then I read an article in a Cancer Center publication about the tax advantages of making a gift from retirement funds as part of an estate plan. I spoke with the appropriate people and my desire has been accomplished. I am so pleased to be able to do my part.
I am delighted to be feeling well once again, and I look forward to celebrating the opening of the new Wilmot Cancer Center. I do plan to be there!"
Back
© Pentera, Inc. Planned giving content. All rights reserved.
River Campus
MAIL: 500 Joseph C. Wilson Blvd.
Rochester, NY 14627
GPS/MAPS: 252 Elmwood Ave.
Rochester, NY
Medical Center
601 Elmwood Ave.
Rochester, NY 14642
Eastman School
26 Gibbs St.
Rochester, NY 14604