Meet Donors
Lynn Lutz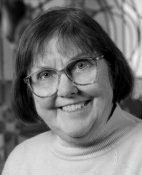 "I could be blind today if it wasn't for the wonderful care provided to me by Dr. Steven Ching, Dr. David Diloreto, and their associates in the University of Rochester Eye Institute."
So states Lynn Lutz, a friend and grateful patient. "It was my husband, Jack, who first suggested that we should express our gratitude through an estate arrangement and a series of charitable gift annuities, which provide dependable income during our lifetimes. These measures will combine to provide a substantial gift, in my name, to the Eye Institute when we have passed away." Like Lynn and Jack Lutz, many thoughtful donors choose charitable gift annuities for their philanthropic programs, because they combine attractive lifetime benefits to the donor, and the opportunity to provide substantially for causes they support.
Back
© Pentera, Inc. Planned giving content. All rights reserved.
River Campus
MAIL: 500 Joseph C. Wilson Blvd.
Rochester, NY 14627
GPS/MAPS: 252 Elmwood Ave.
Rochester, NY
Medical Center
601 Elmwood Ave.
Rochester, NY 14642
Eastman School
26 Gibbs St.
Rochester, NY 14604