Meet Donors
Robert L. Sproull, President Emeritus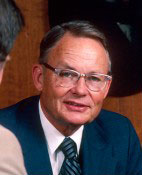 When the University's Board of Trustees voted in the fall of 2002 to establish donor-advised funds, my wife Mary and I were pleased to be the first donors.
A University donor-advised fund is a smart alternative to commercial charitable gift funds or a private foundation. There are no fees, and our many charitable interests benefit from the University's expert endowment management and the administrative services of TIAA-CREF.
A donor-advised fund is truly philanthropy simplified, providing a range of positive benefits to assist University alumni and friends to better manage their charitable giving programs.
Back
© Pentera, Inc. Planned giving content. All rights reserved.
River Campus
MAIL: 500 Joseph C. Wilson Blvd.
Rochester, NY 14627
GPS/MAPS: 252 Elmwood Ave.
Rochester, NY
Medical Center
601 Elmwood Ave.
Rochester, NY 14642
Eastman School
26 Gibbs St.
Rochester, NY 14604