Meet Donors
Brian Prince '86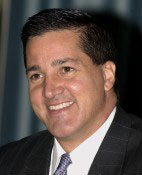 I learned during my years at the University of Rochester that there's more to a good education than grades alone can measure. With the assistance of an alumni scholarship, I was able to become the first member of my family to attend college. My experience at Rochester opened my mind to the value of entrepreneurship, the necessity of understanding the big picture, and the belief that individuals can make a real difference.
Through the creation of a donor-advised fund at the University of Rochester, I want to help the University bring those lessons to more students like me, and expand its ability to promote free-market values as an institution.
The Prince Family Open Society Fund will, over time, provide support to a range of University needs that reflect my personal commitments and beliefs. Initial grants are designated for:
The University's Alumni Scholarship Fund;
The Athletic Department;
The Simon School of Business, to support its commitment to an open society; and
The Jeremy Glick Fund, honoring my fellow University of Rochester alumnus and fraternity member, who died on September 11th aboard United Flight 93 that crashed into a field in rural Pennsylvania.
Back
© Pentera, Inc. Planned giving content. All rights reserved.
River Campus
MAIL: 500 Joseph C. Wilson Blvd.
Rochester, NY 14627
GPS/MAPS: 252 Elmwood Ave.
Rochester, NY
Medical Center
601 Elmwood Ave.
Rochester, NY 14642
Eastman School
26 Gibbs St.
Rochester, NY 14604