Meet Donors
Theresa J. Canada '76, '89EdD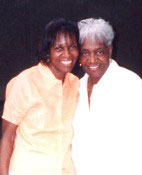 My mother Mildred has provided me with love and support during my entire life. On the occasion of her 52nd wedding anniversary, I was delighted to discover that purchasing a charitable gift annuity for her was a wonderful way to express my love for and appreciation to her, as well as to make a gift to the Warner School of Education and Human Development.
Through the use of a charitable gift annuity, I was able to combine the benefits of a good income-tax deduction, and an attractive income return to my mother, which was not available in any other way.
I presented my mother with her new gift annuity on the day of her wedding anniversary celebration, a very happy experience for both of us.
Back
© Pentera, Inc. Planned giving content. All rights reserved.
River Campus
MAIL: 500 Joseph C. Wilson Blvd.
Rochester, NY 14627
GPS/MAPS: 252 Elmwood Ave.
Rochester, NY
Medical Center
601 Elmwood Ave.
Rochester, NY 14642
Eastman School
26 Gibbs St.
Rochester, NY 14604