Meet Donors
Linda Wells Davey '53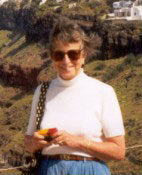 Both my husband and I graduated from the University; we met there and were married before I graduated. At UR, I got a good education, a husband, and a fine life in the city of Rochester—a city that benefits from the University.
Several years ago when we were reviewing our wills, we decided to buy a charitable gift annuity instead of leaving a bequest, and to designate our gift to support Rush Rhees Library. By doing so, we got an income-tax deduction and also earn income on our investment.
Later, we made another annuity purchase to support the Davey Award to support cancer research at the University's James P. Wilmot Cancer Center. It is important to me and my family that this award is perpetuated, and our gift annuity designation assures that this will happen.
We have many reasons to pay the University back for what it has meant to us. Charitable gift annuities are a wonderful way to accomplish this goal!
Back
© Pentera, Inc. Planned giving content. All rights reserved.
River Campus
MAIL: 500 Joseph C. Wilson Blvd.
Rochester, NY 14627
GPS/MAPS: 252 Elmwood Ave.
Rochester, NY
Medical Center
601 Elmwood Ave.
Rochester, NY 14642
Eastman School
26 Gibbs St.
Rochester, NY 14604