Meet Donors
Ann and Dr. Robert A. Hoekelman, Professor and Chairman, Emeritus—Department of Pediatrics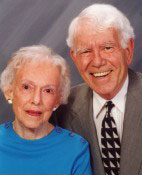 I have spent my entire professional career seeking to keep children well and, when necessary, helping to provide them with the best possible care when a hospital stay was needed.
Golisano Children's Hospital at Strong is a special place where leading physicians, nurses, and dedicated staff bring the latest knowledge and technology together to cure youngsters. That is why my wife Ann and I were delighted to be able to create an endowed fund to benefit Pediatric Links with the Community.
The first of its kind in the country when it started in 1996, Pediatric Links with the Community—an innovative program created at Golisano Children's Hospital—encourages pediatric residents to spend time in the community caring for underprivileged children. These residents get to know those children and their families, the resources available to them from local health care agencies, and how to partner with those agencies to improve children's health. The program's mission is to develop a model of community pediatrics in which pediatric residents in training learn to collaborate with community-based organizations, work to improve the health of underprivileged children, advocate for their community to be more oriented and responsive to their needs and, finally, to apply what they have learned wherever they establish their practices.
For us, taking a distribution from our IRA account and using the proceeds to invest in a charitable gift annuity worked well in funding the gift. The income tax owed on the IRA distribution was offset by the charitable income-tax deduction when we made the gift. And the annuity will provide us with a guaranteed income for our lifetimes. What a wonderful way to help kids, while helping ourselves as well.
Back
© Pentera, Inc. Planned giving content. All rights reserved.
River Campus
MAIL: 500 Joseph C. Wilson Blvd.
Rochester, NY 14627
GPS/MAPS: 252 Elmwood Ave.
Rochester, NY
Medical Center
601 Elmwood Ave.
Rochester, NY 14642
Eastman School
26 Gibbs St.
Rochester, NY 14604