Structuring your reunion gift
You can think about making a reunion gift in many ways. One suggestion we offer is to think about blended gifts that combine assets, methods, and timing, as illustrated in this chart.
1. Your annual support, whether through an outright gift, a qualified charitable distribution, or gift of appreciated securities, provides critical ongoing support year in and year out to the University.
2. Your reunion may be the right time for you to consider an outright gift of securities or a qualified charitable distribution to a program of special interest or to fund a life-income plan that pays you or a family member lifetime income.
3. You may have thought about or already included the University in your estate plan. A bequest in your will or a beneficiary designation on an insurance policy or retirement fund are ways to provide future support while retaining access to your assets during your lifetime. If you inform the University of your plans, your commitment will be included in the total amount reported for your class gift.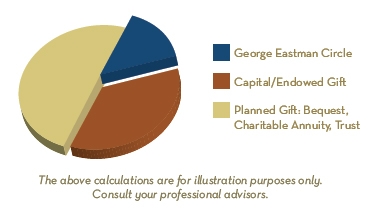 © Pentera, Inc. Planned giving content. All rights reserved.
Disclaimer