Meet Donors
Larry and Sara Smith Mason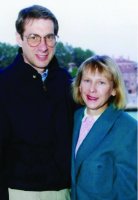 Sara Smith Mason recalls that the University of Rochester provided a very special experience for her parents, Harry F. Smith MD'38, R'48 and Louise Sullivan Smith '36, N'38.
Sara and her husband Larry Mason recently revised their estate plans and included a generous bequest in honor of Sara's parents. "I think my parents would be pleased with what we've done," Sara reflects. "We have no children and thought about whom we could leave our estate to. Our goals are to honor my father and mother and to further medical education and research."
Sara Smith Mason is crafting her own legacy, while at the same time continuing a family legacy of philanthropy that will benefit generations of students at the University.
"My mother established a nursing student scholarship fund in honor of her mother, Mary Kiefer Sullivan," explains Sara. "Later, she also established scholarship funds in her name at the School of Nursing and in Dad's name at the School of Medicine and Dentistry. My gift, when it comes to the University, will be added to those two existing scholarship funds in my parents' names."
Louise Sullivan Smith's example of generosity in supporting both the School of Nursing and the School of Medicine and Dentistry was key in deciding how Sara planned her estate. "For me, education is critical for both physicians and nurses. Both professionals are integral for treatment," Sara maintains.
Back
© Pentera, Inc. Planned giving content. All rights reserved.
River Campus
MAIL: 500 Joseph C. Wilson Blvd.
Rochester, NY 14627
GPS/MAPS: 252 Elmwood Ave.
Rochester, NY
Medical Center
601 Elmwood Ave.
Rochester, NY 14642
Eastman School
26 Gibbs St.
Rochester, NY 14604